RECOVERY. REAL LIFE. MUSIC.
"An extremely personal, contemplative, angry—and appreciative—musical journey" —The Globe and Mail on John Mann's album The Waiting Room
THE WAITING ROOM
Book by Morris Panych
Music and lyrics by John Mann
A moving story about family, healing, and hope, The Waiting Room is the highly anticipated collaboration between Spirit of the West's John Mann and acclaimed Canadian playwright Morris Panych. Drawn from Mann's own experience and his solo album of the same name, this musical follows "J" as he navigates life before and after diagnosis. It's a story told with grace, honesty, and a sharp sense of humour, with a score that adds a layer of poignant commentary and thoughtful observation.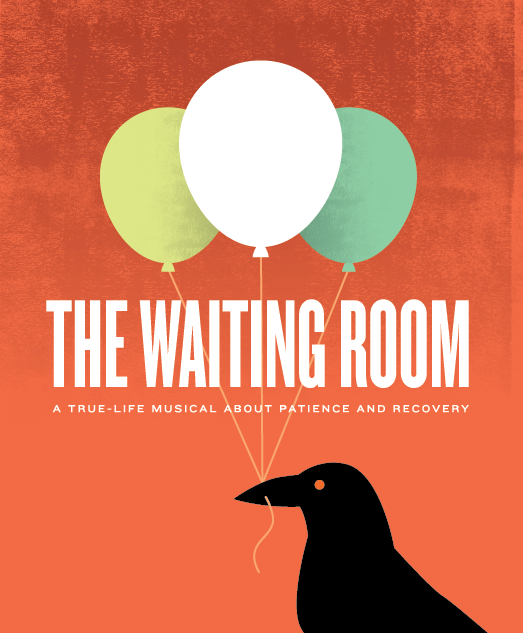 "Full of grace, honesty, humour and compassion"
—Jo Ledingham The Vancouver Courier

"A beautiful celebration"
—Colin Thomas, The Georgia Straight
"Goes far beyond what a traditional musical might offer"
—Mark Robins, Vancouver Presents
"Touching, compelling, convincing, entertaining : you can't ask for more"
—Baird Blackstone, Broken Leg Reviews
"The Waiting Room provided everything I hope for when visiting the theatre but almost never receive. The production was original, moving, skillfully acted, and totally involving. My attention was riveted to the stage for every minute of the performance. Thank you for providing this unforgettable experience to Vancouver's theatre audiences"
–Dan, Vancouver

Book by Morris Panych
Music and lyrics by John Mann
Starring Peter Anderson, Chris Cochrane, Jillian Fargey, John Mann, Bonnie Panych, Matreya Scarrwener, Jonathon Young
Musicians Brad Gillard, Eric Reed, Allan Rodger, Shari Ulrich
Director Morris Panych
Musical Director Allan Rodger
Set and Costume Designer Ken MacDonald
Lighting Designer Gerald King
Sound Designer Ace Martens
Movement Collaborator Wendy Gorling
Dramaturg Rachel Ditor
Stage Manager Caryn Fehr
Assistant Stage Manager Angela Beaulieu